Support through Mobile Messaging and digital health Technology for Diabetes
01865 617877 (fax 01865 289412)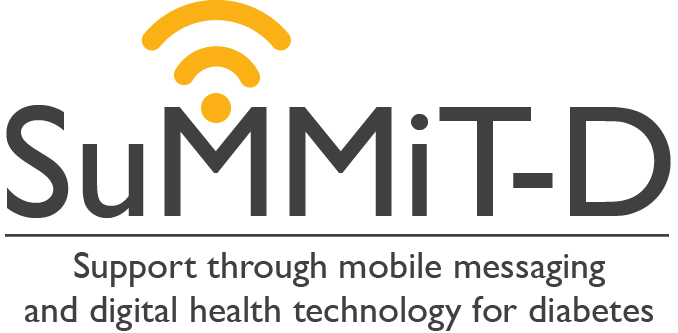 Funded by the National Institute for Health Research
PGfAR: RP-PG-1214-20003
Currently recruiting people with type 2 diabetes and healthcare professionals for focus groups
Treating type 2 diabetes can help to prevent complications and early death. However, between a third and half of the medicines used to treat this condition are not taken as prescribed. Taking tablets as intended can be challenging. Concerns range from worries about treatment to practical difficulty in taking medication several times a day. The SuMMiT-D study is a six-year NIHR funded programme to develop a digital-health messaging tool to support people with type 2 diabetes in best use of medicines and to test it as part of a wider system of support in clinical trials.
BACKGROUND
   Type 2 diabetes affects 2.9 million people in the UK. Treatments to reduce risks of complications from type 2 diabetes are effective if taken as intended. Concerns about medicines and difficulties in taking them regularly, whether intentional or unintentional, are common.  In addition to the burden of preventable death and disability, the cost of non-adherence with diabetes treatments has been estimated at £100 million a year in avoidable treatment costs. Some services to help support people with making better use of their medicines are available, but evidence of their effectiveness and cost-effectiveness is weak. Understanding and improving this situation could make a major contribution to health and NHS costs. 
   There is some evidence that using brief messages to support people with better use of their medicines can be effective. This is especially in the context of tailored and personalised interventions using electronic health record data. However, more work is needed to develop such messages, embed them in health care delivery systems, and test whether they work when used at a wide scale.
   This programme of work will bring together an interdisciplinary team to deliver a series of linked studies to address the way that digital technologies can be linked to state-of-the-art health psychology for personalised support in type 2 diabetes. Patients, clinicians and experts in behaviour change will be asked what sort of messages are likely to be relevant and acceptable for people starting and continuing taking a diabetes medicine.
    Predictors of non-adherence in a retrospective primary-care cohort will be examined using routinely collected electronic health record data. Qualitative methods will be used to explore the added value of tailored messages based on personal preferences, the type of medication prescribed, duration of treatment and timing of medication collection using real-time electronic health record data.
    The intervention will be tested in a randomised clinical trial and linked health economic study to estimate the extent of benefit and costs. A process evaluation, using mixed methods will inform understanding of how the intervention might work and be implemented within health care.
If effective, this technology could reduce the burden of complications and increased costs associated with under-use of diabetes medicines. A coordinated system for interacting with patients, including automated and personalised support messages could improve satisfaction with health services and offer a model for technology-based self-management. This approach could be extended to other aspects of diabetes care, and other long-term conditions.


AIMS AND OBJECTIVES

To develop and test a mobile-device based system delivering automated, tailored brief messages to offer support for medicine use alongside usual care to people with type 2 diabetes. This will include developing and refining the content of messages targeted at a wide range of medication adherence behaviours, and developing and optimising the system for delivering them. The programme will explore the extent to which the messages can be tailored by personal characteristics and response to earlier messages, and by routinely collected NHS data.
STUDY DESIGN
SuMMiT-D has 5 work packages
WORK PACKAGE 1 
Look at previous research to learn as much as possible from what people have done before
WORK PACKAGE 2
Link up data from clinical care, identify helpful messages and ways to present them, develop a pilot system to help people use medicines and test it in small groups to be sure it is acceptable
WORK PACKAGE 3
Test the system in a group of people to see how it fits into the day-to-day lives of people using it and see which sort of messages are most helpful
WORK PACKAGE 4
Test the system with people receiving usual care in a large trial (958 patients). The main outcomes would be:
(i) Levels of diabetes control
(ii) Whether medicines were taken as planned
(iii) Satisfaction with treatment
Costs will also be reported 
WORK PACKAGE 5
Use new opportunities offered by digital technology to:
(i) Track the use people make of their medicines
(ii) Better identify those who might stop their medicines or not take them regularly and
(iii) Offer better information and support to people with diabetes in the use of their medicines
Look for ways to make use of this research for other conditions and for people who have more than one long-term condition